Everything is Normal Already? Last week's first in-person business meeting came and went, and Friday's "first evening dinner at a restaurant with friends in ages" did too. Family round for lunch in the garden yesterday was very good, and today's Sunday lunch with different friends at another restaurant will be, as well. Next week is already full of scheduled Zoom calls. The second jab is in the calendar. The weather has improved and reassures us that Summer is not far away.
There are some uncertainties but we know what they are. The future isn't the dark unknown that it has been during the pandemic. The most likely course of events is a familiar road of things we know how to do: jabs, masks, Zoom and Teams, careful meetings and working together, be that in-person or online. Even another lockdown, God forbid, would be something we know how to do.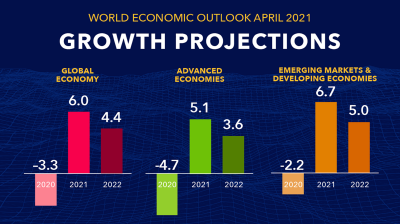 The latest research from the IMF is a good reflection of the things happening in business every day. A few things are still really grim as they deal with what's been thrown at them, but much about business is surprisingly upbeat. Largely this seems to be driven by vaccines and huge, widespread support from governments and, importantly, from the way humans and business has adjusted so quickly and so well.  For the most part, we've all adapted astonishingly well. This is true particularly of anything with a strong technology element. The IMF is forecasting strong growth now, in advanced economies, with tepid recovery elsewhere, especially in countries, for example, that are highly dependent on tourism.  This does seem to reflect the things we're now familar with.
Familiarity around us and this is the signpost that we are already in what's so often been spoken about in hushed tones of expectation as: "the New Normal". We know what lies ahead, at least in the main. Lumps and bumps in the road, no doubt, but we've been there before. Different industry sectors going at different speeds, with technology pulling strongly; so what's new about that? Meetings on Zoom and Teams, and we know what they're like. Some face to face interaction as and when and how it makes sense – that'll be good. Someone I know is doing a speed awareness course on Zoom today and I was able to say I'd done one of those last year, for heavens's sake!

By far the most important factor is that there's a real sense of pent up demand; businesses and individuals are palpably eager, maybe crowding to pubs at midnight is a bit far, but still, we're all looking ahead with a desire to do stuff and the expectation that everything is on the up.
We now know the direction of travel, give or take. There will be seasonal variations but we know what things look like, and we have dealt with the difficulties and adapted. These things were shocks when they happened for the first time, but we've adapted well and know how to do all this.
So now it's full steam ahead. We know where the opportunities and pitfalls are, and we know what to do. This is the new normal. The outlook is out there. It's game on! Let's get at it!!
IMF: World economic outlook
FT: The dramatic rebound in the global economy 

Peter Osborn, founder and chairman of Flexiion MSP